The Monster Jam Megalodon STORM, Air Hogs Stunt Shot and Ninja Bots have major wow factor at first sight but what I loved most as mom is that the playability was even better than that initial thrill. The boys had an amazing time showing these off to their cousins at our Spin Master RC Playtime Tryazon Party where even their youngest cousin, age 3, did some awesome RC driving.
Monster Jam Megalodon STORM
We have gone to Monster Jam once a year for the boys birthdays as a special treat. They have a Megalodon stuffie so when this came out of the box, they were ecstatic! The Megalodon STORM RC is designed for water and land with custom performance tires which can take on water, dirt, rock and snow. This one is loud because it is so tough and versatile.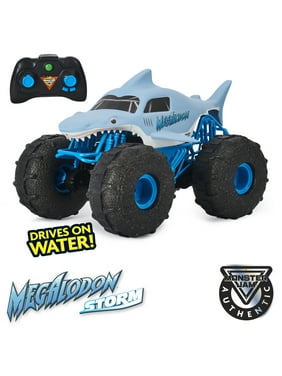 Air Hogs Stunt Shot
The Air Hogs Stunt Shot is crazy fast and zips around like a hummingbird. I liked this one a lot because it is small, lightweight and can do cool tricks and flips with super soft foam wheels that can drive over anything indoors without causing damage. This one is awesome for younger kiddos because it is extremely easy to drive and mom approved because it won't damage my furniture or walls. The boys loved how it can bounce over stairs, off walls, drive over objects and have "epic battles" with Megalodon. They even built cardboard ramps to battle each other.
Ninja Bots
These were an unexpected winner and they really made us laugh. You can select your favorite weapon, which include silly things like a plunger and spatula along. They make lots of silly sounds and have sayings and even a special victory dance. The boys and I took turns battling and enjoyed hearing the fun silliness that these little guys bring. Check out our video to see them in action.
Spin Master is a North American company founded by friends with a focus on kids and creativity and that spirit comes through in these toys. These would all make great Christmas gifts and we would recommend them for ages 4 to 12.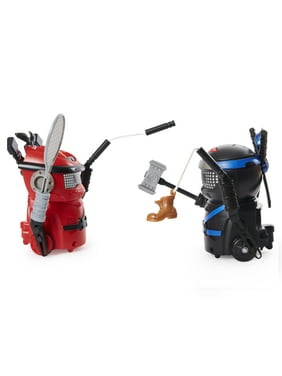 @spinmaster @tryazon #tryazon, #MonsterJam #SpinMasterMonsterJam #MegalodonStorm #NinjaBots #AirHogs #StuntShot